How to control multiple networks simultaneously?
The Site feature allows you to control multiple networks simultaneously.

What is a Site
The Site feature allows you to control multiple networks simultaneously, create site-wide scenes and site-wide timers. For example, a building with
three floors could have a separate network for each floor and a site could then be used to connect the three floors and to control them simultaneously.
To use this feature, the feature must first be enabled in the App settings section. Each network in the site must be shared and have a gateway enabled.
It is recommended not to make any changes to a network once it has been added to a site.

How to create a site
Enable the Site feature by selecting More > App Settings > Site features enabled
Create a Site account: More > Account > Create account and enter the required details
Navigate to More > Change site (or select Sites from the app's start page)
Select 'Create a new site' or push the '+' in the top right corner
The new site will now appear in the Change site list.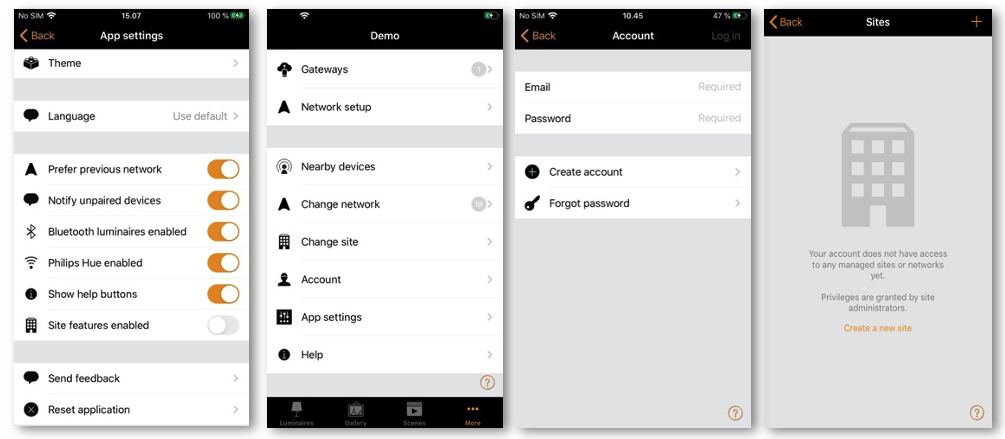 Select the site you require and add networks to the site:
Has full control of all network aspects.
Select 'Add a network to site and then select a network from the displayed networks list.
More networks can be added by tapping on the '+' icon
Tap on 'Done' when you have added your networks to your site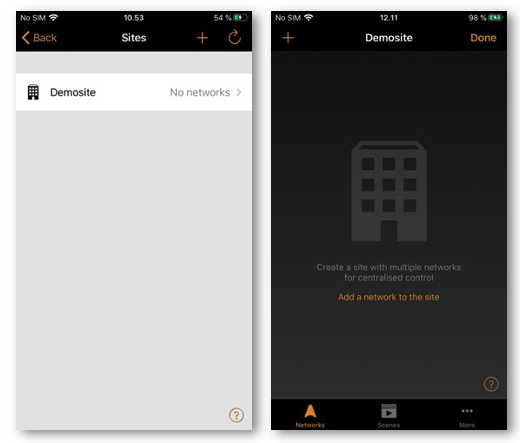 Adding users to the Site
After creating a site, more users can be added to it. New users also nee dto have their own valid Site Account.
To add more users, lelect More > Privileges and tap on the '+' sign. Enter the user's email address. Then select their level of access. There are three different
levels of site privileges that can be configured:
User: (default) Can be the Site or network, but cannot make any modifications
Manager: Can use the Site or network and can modify settings, but cannot assign privileges to other accounts
Admin Can modify all the settings and can also assign privileges to other accounts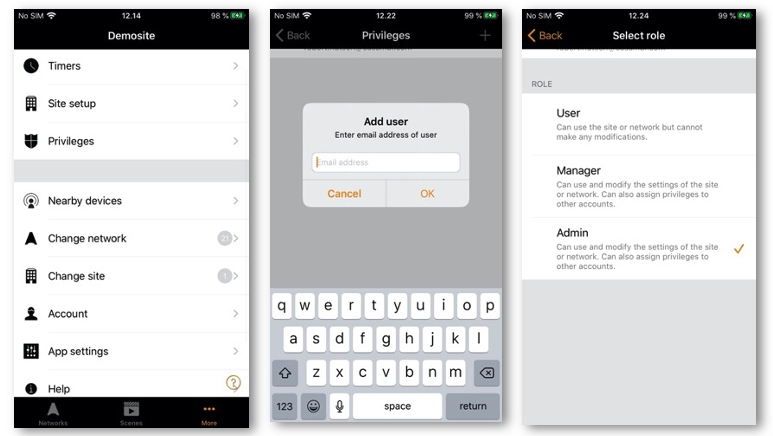 Controlling a network
In the Networks tab (bottom left of the screen) it is possible to control an entire network in the same way as an individual luminaire, using the same gestures. When tapping on the network, all the luminaires inside the network will switch on or off. It is also possible to dim the whole network by swiping left or right, and the colour temperature (if supported) can be swiping up and down.
Double tapping on a network will open it and from within that view it is then possible to control the individual luminaires in the network.
Site Scenes
In the Scenes tab it is possible to create site-level scenes and animations. Site-level scenes can include luminaires from different networks. A whole network can be added to a scene. Individual luminaires can be selected by opening a network by double tapping on the network icon. Creating and editing site-level scenes is done in the same way as network-level scenes
Site Timers
It is possible to create site-level timers that control site-level scenes. Site-level timers can be configured in the Sites > More > Timers page. Site-level timers are configured in the same way as network-level timers.
Deleting a Site
Select the site name from the Change Site screen
Navigate to More > Site Setup > Delete site
Enter your site account password and tap on OK