All products
Trailing edge dimmer – Connected Light
---
This bluetooth device is a high quality trailing edge dimmer for dimmable mains voltage powered loads. It can be installed behind a traditional wall switch, into the casing or the ceiling connection of a luminaire. This bluetooth device belongs to the Casambi family of products and has the following features:
Forms automatically a wireless mesh network with other Casambi products.
Wireless control with a Casambi app for smart phones and tablets.
The Casambi app is available free of charge from Apple App Store and Google Play Store.
Integrates the use of regular wall switches for dimming and scene control.
With the free Casambi app it is also possible to use the following functions:
Dimming of single or multiple luminaires with simple touch gestures.
Control luminaires visually directly from pictures of your shop, offices or personal rooms.
Set up scenes with several luminaires in them. It is possible to create up to 255 different scenes with up to 127 devices
units in each scene. All the luminaires in one scene can have different light levels, colors and color temperatures.
Use timers to turn on and of scenes at predefined times.
Define the security of the network. There are four different security levels for access control.
This device uses the Bluetooth Low Energy mesh network to control the luminaires. The strength of mesh network is the perfect control of multiple luminaires in a same network without gateways, routers, repeaters or extra wiring. The device uses Bluetooth Low Energy to form a direct connection between a mobile device and the bluetooth unit.
Connection diagram

Dimensions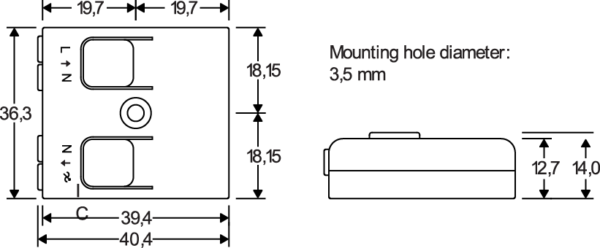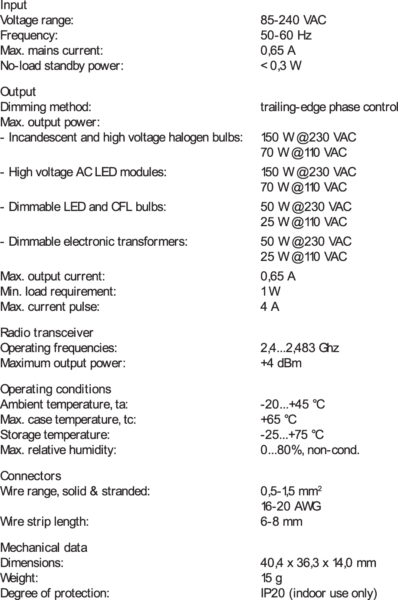 Product codes
| Article number | Description |
| --- | --- |
| 164 19 24 09 83 | 1CH trailing edge dimmer – Connected Light |
Software


Media/Downloads
Login
for more information and data or
contact us
for more information.