All products
Power pwm dimmer 4ch
---
This casambi ready led controller/dimmer is designed to be used with several types of LEDflex. It can also be used to control led light that are normally driven by a constant voltage driver. The voltage that is connected at the input will be found at the output so be sure that the used power supply and led type are rated on the same voltage. The module is available in different software versions. So monochrome, RGB and RGBW is possible.
Be aware you order the correct partnumber so you have the correct software for project. The module also has a push button connection. This can be used to control the connect led lights. Short press will restult in ON or OFF and a long press will dim the light untill you release the button. The push button can also be configured to control a scene or another casambi module in the same network.
Connections for RGB

Connections for RGBW

Connections for 4ch monochrome


Connections for tunable white

Dimensions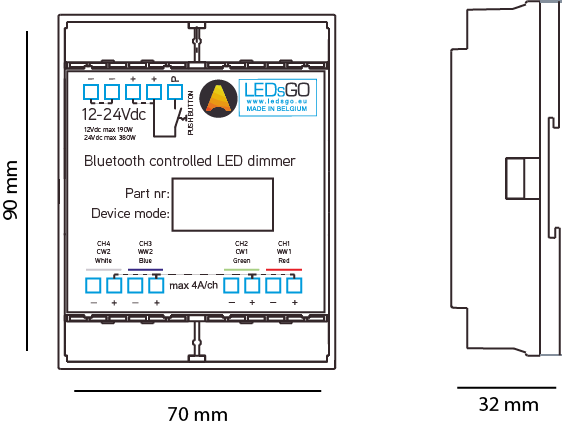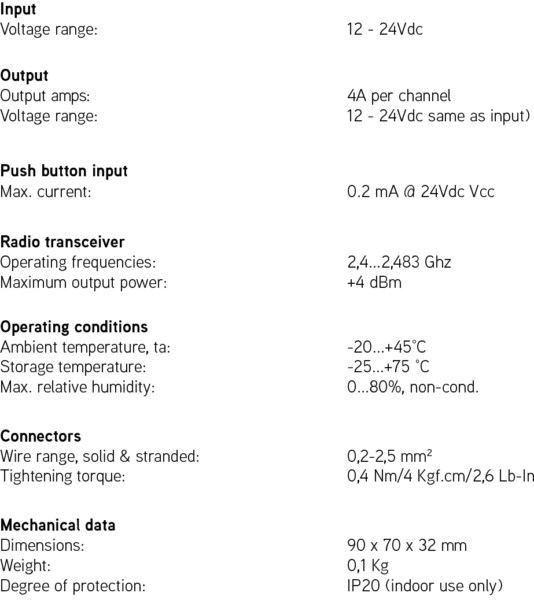 Product codes
Art. number
Software version
164 19 24 10 56
PWM 4 channel Casambi ready
dimmer (all in one)
Software


Media/Downloads
Login
for more information and data or
contact us
for more information.